CARE Centre Celebrates Member IENs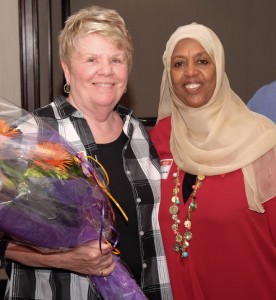 National Nursing Week and the RNAO Career Expo in Toronto on May 15th was a great occasion to congratulate our member IENs who passed their licensing exams over the past year. The valedictorian address was delivered by Isolde Ruiz who shared moving memories of her IEN journey. A highlight of the luncheon was CARE Centre's Professional Practice Lead, Ruth Wojtiuk's special presentation on her 50-year nursing career. Ruth is seen here with member Halimo Dualeh, RN, who along with Isolde is one of the annual Conference for IENs core volunteers. CARE Centre celebrated 151 members who achieved RN, RPN, or dual registrations from across the organization's six southwestern Ontario service areas. A second celebration was held in Brampton on June 15th for Peel Region members in conjunction with a public Open House to welcome new IENs to CARE Centre and its services.
Annual Report 2014-2015
Following its Annual General Meeting on June 22nd, CARE Centre has published the 2014-2015 interactive annual report available online and for downloading. Executive Director Zubeida Ramji noted highlights of the second year of CARE Centre's strategic plan, including closer collaboration with the Ontario Nursing Policy and Innovation Branch of the Ministry of Health and Long-Term Care, and IENs' first employment opportunities through the Nursing Career OrIENtation Initiative. Board Chair Saleem Hall thanked Zubeida and CARE Centre employees for target-exceeding results achieved across Southern Ontario. With reluctance, the board recently accepted Zubeida's resignation effective end of August 2015. After five years at the helm of the organization, Zubeida is leaving to focus on completing her nursing PhD research and dissertation. Program Manager Joanne Roth will serve as Interim Executive Director through the board recruitment process.
Second Annual Conference for IENs set for November 2015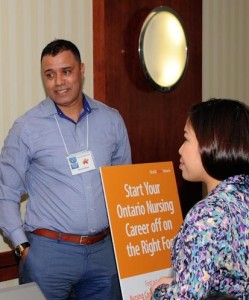 After the resounding success of the inaugural Conference for IENs last year, the volunteer organizing committee has expanded to create a new slate of speakers, panels and presentations for November 19th and 20th this year. The conference theme, "IENs: Partners in Healthcare Diversity", will once again bring together educators, employers, regulators and others with student and practicing IENs to discuss important trends and issues. There will be an interactive tour of poster presentations, facilitated networking with a panel of nursing leaders and the presentation of the Joan Lesmond IENs of the Year Award, presented to one member RN and one RPN. Last year's winners were Ahmad Baki, RN and Adela Belisario, RPN, with the award sponsored by PRINTBRAIN. Registration for the 2015 conference is now open: https://care4nurses.org/events/2015-conference-for-iens/
CARE Centre Case Managers in Your Community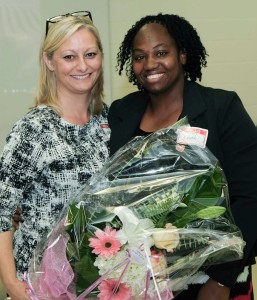 CARE Centre has many partners in the academic, settlement and healthcare sectors that refer IENs to us when they are the first point of contact. Within Toronto, CARE Centre case managers are now available to meet with IENs at select locations, on varying days throughout the week in order to improve access and to build closer relationships with local community partners across the city. IENs can meet with case managers at Touchstone Institute (80 Bloor Street West), Kababayan Multicultural Centre (1313 Queen Street West), the Bathhurst/Finch Hub location of Kababayan, at Access Employment at the Dorsett Park Hub in Scarborough (2100 Ellesmere Road), and at the community centres Parya Trillium Foundation in Thornhill (344 John Street) and COSTI in Vaughn (7800 Jane Street). Contact information will be available on the website after confirmation of scheduling. CARE Centre continues to offer services from Windsor to Kingston, and has offices in London, Hamilton and Brampton. Pictured are case manager Norma Tomlin and member IEN and valedictorian Colita Fraser-Howard. IENs are welcome to contact CARE Centre for more specific details:
416-226-2800 | info@care4nurses.org or website www.care4nurses.org.