Joan Lesmond IEN of the Year Awards 2016
CARE Centre had the pleasure of being hosted by two different employers for the 2016 IEN of the Year Awards to celebrate our very deserving RN and RPN winners.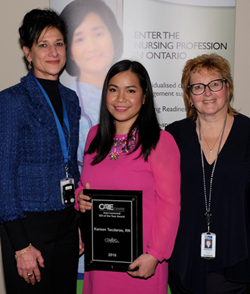 On November 18th Kareen Tacderas' colleagues filled the Humber River Hospital (HRH) auditorium for her presentation ceremony. Kareen is an ICU RN at HRH and a summa cum laude graduate (and valedictorian) of the York University BScN program. HRH President and CEO Barb Collins and Chief Nursing Executive Dr. Vanessa Burkoski spoke at the event, along with CARE Centre board member and chair of the Joan Lesmond Awards selection committee Ella Ferris and Executive Director Sue VanDeVelde-Coke. The event concluded by sharing some refreshments with Kareen's on-duty colleagues on the ICU unit.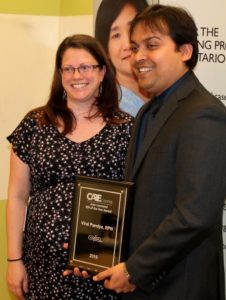 On November 22nd a reception was held at ParaMed, employer of our RPN IEN of the Year, Viral Pandya. ParaMed is Ontario's largest private sector provider of home health care with 22 offices across the province and a 40-year record of serving clients in the community. Pictured with Viral is his nominator, Samantha Thomson Brown, Client Service Supervisor – Clinical Nursing. Along with his ParaMed office colleagues, many CARE Centre member IENs attended Viral's presentation, some of whom are serving as fellow ParaMed community nurses. The event was made even more special with Viral's family members and friends present as guests, along with all of his community care team.

Board of Directors Drafts New Strategic Plan 2017 – 2019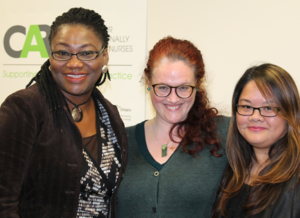 On December 19th, CARE Centre's Board of Directors drafted a Strategic Plan for 2017-2019 that will strengthen the organization's position as a national and international leader in the education and integration of internationally educated nurses. The plan's renewed vision, mission and values, and re-focused strategic priorities and objectives, will enhance CARE Centre's role and reputation as an exemplary provider of customized services to IENs through its case management model. "We are confident that as we move forward together, CARE Centre will continue to provide the unique suite of services and dedication to our clients that has made the organization so outstanding in the bridge training sector,' said Saleem Hall, Board Chair. "We will continue to keep CARE Centre member IENs, operational partners and stakeholders updated as we enter into our new programing year for 2017-2018." Also coming in early 2017, CARE Centre's Pre-Arrival Supports and Services program (PASS) will be featured on OMNI TV's New Canadians show.

Brampton Members Learn Dementia Care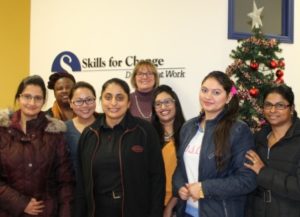 CARE Centre's Brampton office recently delivered a workshop on Dementia and Alzhiemer's presented by Karen Phair, Public Education Coordinator with the Alzheimer Society of Peel. Phair explained various kinds of dementias including the effects of Alzheimer's disease, and shared communication strategies for caregivers, using her own experience as a front-line community worker in day programs for dementia sufferers. Member IENs felt much better prepared for interactions with patients and families affected by Alzheimer's and other dementias.

CARE Centre Staff Updates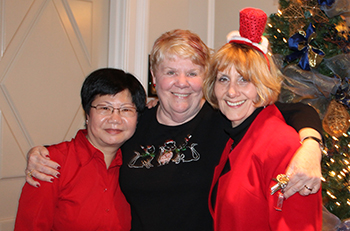 It is with greatest thanks and best wishes that CARE Centre announces Ruth Wojtiuk's retirement in early 2017. As an RN Ruth has had a distinguished career in community nursing, management, teaching, and policy and program development. Along with her many years at CARE Centre as a case manager and more recently Professional Practice Lead, Ruth has been a sessional instructor at Ryerson University's School of Nursing and currently teaches at George Brown College.
Also leaving CARE Centre at the end of January 2017, Executive Director Sue VanDeVelde-Coke will be taking a new position as President and CEO of Kerry's Place Autism Services. CARE Centre is grateful for Sue's stewardship through recent organizational change and transition, and the staff and board wish her all the best in her new role.
CARE Centre welcomes Dr. Ruth Lee as Interim Executive Director. Dr. Lee is Associate Clinical Professor of the Graduate Faculty at the School of Nursing, Faculty of Health Sciences, McMaster University and Affiliated Member, Joint Centre of Excellence for Research on Immigration and Settlement. She recently served as Chief of Nursing Practice, Hamilton Health Sciences (HHS). Her previous work leading the Hamilton Health Sciences IEN Integration Project makes her a great fit for our organization. We are also pleased to announce that Board Member Ella Ferris will be acting as Board Policy Liaison with Ruth as she transitions into her new role.

Thank You for Your Donations!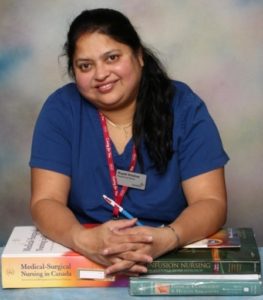 CARE Centre's Giving Tuesday campaign to raise funds for our lending library of essential nursing textbooks received great support from members and stakeholders. Thanks to everyone who donated and for those who are still looking for a way to give back during the holiday season and receive 2016 charitable donation tax receipts, CARE Centre for IENs is a registered charity (#84420 5948 RR0001.) Please consider helping IENs achieve their dream of registering to practice in Ontario. Over 3,500 nurses from more than 140 countries have accessed services and supports at CARE Centre for Internationally Educated Nurses since 2001.