CARE Centre for IENs would like to welcome the Hon. Michael Coteau, MPP for Don Valley East, to the portfolio of Minister of Citizenship and Immigration (MCI). CARE Centre receives its Ontario government funding through MCI and the Government of Canada. Michael Coteau was elected to the legislature in 2011 as the MPP for Don Valley East. He was appointed Minister of Citizenship and Immigration in February, 2013. Prior to entering government, Coteau served as a school board trustee for almost eight years. As a trustee, Coteau worked to make schools more accessible to community groups that run after-school programs for children. He also served as the Vice-Chair of the Toronto District School Board and helped to bring forward nutritional changes that increased awareness around student hunger and resulted in healthy food programs. In addition, he is a champion of the integration of technology in education. Coteau is former CEO and Executive Director of a national literacy not-for-profit, Alpha Plus. He was also on the board of the Toronto Foundation for Student Success and on the board of the Toronto Land Corporation. If you would like to read about Ontario's immigration strategy, see the pdf on the Ministry website at citizenship.gov.on.ca/english/keyinitiatives/imm_str/strategy/strategy.pdf, and to contact Minister Coteau, email mcoteau.mpp@liberal.ola.org. Parliamentary Assistant to the Minister of Citizenship and Immigration is MPP Bas Balkissoon (Scarborough–Rouge River), who is also Chair of the Committee of the Whole House and Deputy Speaker (bbalkissoon.mpp@liberal.ola.org).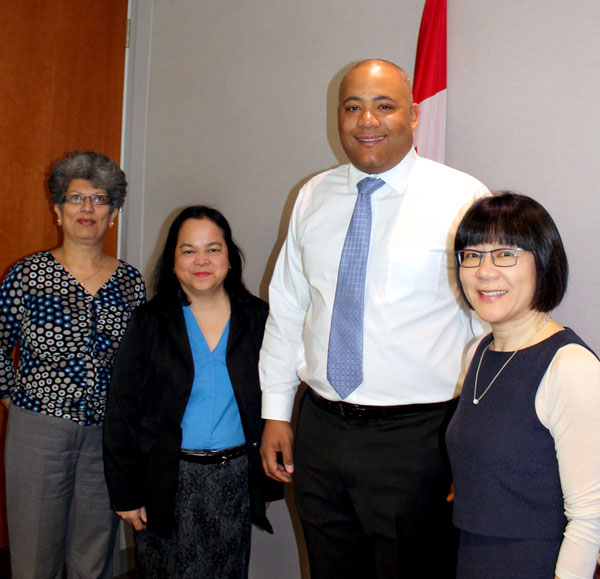 "None of this could have happened without CARE Centre," El-Assaad said, "They put me on the right track. Their specialized courses really helped." Ismail, who is planning to return to school to do a master's degree, faced tough competition and was selected from an outstanding field of member nurses who are exemplary professionals and compassionate caregivers. LHSC CEO and President Bonnie Adamson, who is herself a former nurse, spoke at the event, and Ismail received his award from last year's winner, Loy Asheri. Ontario Health Minister Deb Matthews provided a video greeting. Also on hand for the celebration were CARE Centre Executive Director Zubeida Ramji and board member Flor Dandel, Executive Director of Kababayan Community Centre. The call for nominations for the 2013 award will go out in June.
More Support for IENs in Ontario
Announced at the start of Nursing Week May 6-12, 2013, the province is expanding the Nursing Graduate Guarantee so that new nursing graduates from other provinces and territories have the opportunity to work in Ontario. As part of the Nursing Graduate Guarantee, the province is creating the Nursing Career OrIENtation Initiative, an employment initiative to help internationally educated nurses transition to practice full-time in Ontario. "Our Nursing Graduate Guarantee has been a tremendous success in helping nurses gain a foothold into their profession with some immediate hands-on experience, said the Honourable Deb Matthews, Minister of Heath. "We are now providing the same opportunity to new nurses who were educated in other provinces and internationally to ensure Ontario has the best nursing workforce providing care to patients."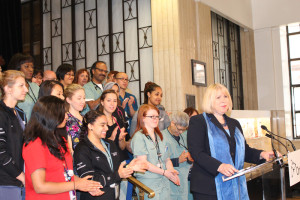 These initiatives will provide newly registered IENs with an opportunity to gain employment and to work with experienced nurses to enhance their knowledge and skills. Supporting nurses who are entering the workforce in Ontario is part of the government's Action Plan for Health Care. "The Nursing Career OrIENtation Initiative supports the vision of our Immigration Strategy and will benefit Ontarians in many ways, from helping internationally educated nurses achieve success and building our highly skilled workforce, while ensuring we have strong communities where the people of Ontario can thrive," said Minister of Citizenship and Immigration, the Honourable Michael Coteau.
Since 2007, more than 14,300 nurses have participated in the Nursing Graduate Guarantee initiative, and there are 16,400 more nurses working in Ontario since 2003. "No one works more closely with patients than nurses," said Zubeida Ramji, CARE Centre Executive Director. "These initiatives will assist nurses who are new to Ontario to launch and continue a career in nursing while ensuring that the province has a stable workforce meeting the care needs of patients."
Changes at CARE Centre
At the end of December, 2012, CARE Centre completed a three-year funding cycle and had applied to a government request for proposals for renewed bridge training funding, and also submitted some project applications. Unfortunately, the Ministry of Citizenship and Immigration, which itself received reduced funding from the federal government, provided a phase one funding renewal with a 30 per cent reduction, resulting in some significant changes to CARE Centre. Six positions were terminated across the organization, with CARE Centre's presence in Windsor now served by case management services out of the London office. The Hamilton office lost two positions, with service to the wide catchment are including Kitchener-Waterloo and Niagara Region being impacted. Additionally, staff cuts will affect activities out of the Peel Region office in Brampton, which also experienced reduced case management capacity. "CARE Centre has served IENs and the the nursing, healthcare and settlement communities with loyalty and ever-increasing expertise for 12 years, so the funding cuts hit especially hard," said Executive Director Zubeida Ramji. "As we move into the next funding phase we will be calling on our membership, Ontario's nursing leadership, major healthcare employers and all our stakeholders to express their support for CARE Centre, that we can continue to develop Ontario's first bridge training program for internationally educated health professionals as a model that is emulated across disciplines and in other provinces."
Zubeida Ramji Participates in Conference Board of Canada Philippine Delegation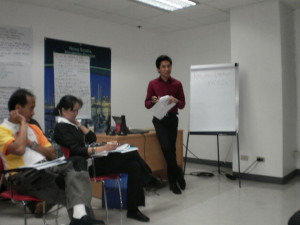 Executive Director Zubeida Ramji took part in a late January Conference Board of Canada Leaders' Roundtable on Immigration meeting in Manila to learn about efforts to achieve better settlement and integration outcomes for immigrants by visiting projects and exchanging insights on various strategic initiatives for migrants at the pre-departure stage, before they arrive in Canada. The Philippines is the number one source country for permanent resident applicants to Canada and provides the largest group CARE Centre member nurses. Along with Citizenship and Immigration Canada and Canadian Trade Commissioner Service participants, many senior academicians took part in the conference which included visits to the Australian SITE Skills Training campus and University of the Philippines and De La Salle University, both of which have nursing faculties. Zubeida Ramji addressed a large class of nursing graduates at University of Santo Tomas and met with various other nursing colleagues. "Our objective was to learn more about the nursing sector in the Philippines, as our largest source country for IENs – this was definitely achieved by the connections made through this Conference Board of Canada initiative." said Ramji. "CARE Centre has already been working with the Canadian Immigrant Integration Program (CIIP) office in Manila, along with the other CIIP offices, so being able to meet with people face-to-face was very advantageous to our continued collaboration on improving successful immigration for IENs coming to Ontario."
Objective Structured Clinical Examination (OSCE) now required for CNO registration
An important part of the CNO application process for all IENs is determining program equivalency, a non-exemptible requirement for registration. The CNO evaluates RN candidates on their educational background to determine if their previous studies have equipped them with the nursing knowledge, skill and judgment equal to that of a recent graduate of an Ontario RN nursing program. If the CNO determines that an applicant does not meet the program requirement, then they will be asked to complete an OSCE (Objective Structured Clinical Examination).There is a $200 administrative fee that will be refunded after providing proof of completion of the OSCE. Administered at the Centre for the Evaluation of Health Professionals Educated Abroad (CEHPEA) in Toronto, the OSCE gives applicants the opportunity to demonstrate their nursing knowledge and skills. The OSCE is completed over a four-hour period at CEHPEA's offices in Toronto. After about two months, the applicant will receive their results, which will either allow them to write the registration exam, or direct them to a course of study for identified gaps, or if assessed with significant deficiencies in skills and knowledge, the college will advise them of other options. The OSCE consists of a short, written multiple-choice exam that tests general nursing knowledge, and a series of mock client examinations in a clinical setting. The blueprint for the OSCE is based on the National Competencies in the Context of Entry-Level Registered Nurse Practice. For questions about the examination itself, including upcoming testing dates and directions to the testing centre, contact CEHPEA at 416 924-8622 or email info@cehpea.ca. (adapted from the CNO website: cno.org/become-a-nurse/about-registration/entry-to-practice-examinations/observational-structure-clinical-examination-osce/.)