Program Focus: CARE Centre's Exam Preparation Courses Address Regulatory Changes
With a number of regulatory changes being announced by the College of Nurses of Ontario, CARE Centre's Exam Preparation course offers more value than ever before. Now that the safe practice window has tightened to three from five years, and applicants must complete the registration process within two years, a specialized approach to the RN and RPN exam is highly recommended to members. The exam preparation course is 80 hours of material covered over a flexible 10-day schedule at a cost of $350 for members, about a tenth of the price of many commercial courses on the market.
"The exam prep course is an important part of CARE Centre's customized action plan to help IENs learn the socio-cultural aspects of Canadian nursing to write their exams with confidence," says CARE Centre Executive Director Zubeida Ramji.
Omar Taladua (shown in cover photo) is an RN at Sunnybrook Hospital who cautions against taking the exam without proper preparation, as he did when he came from the Philippines in 2005. "When the CNO said I was eligible to sit the exam, I was eager to do it on the very next date. After taking it I got a letter stating that I missed my goal by one point. I was so depressed that I almost gave up nursing." After taking the Exam Prep course, Omar felt he had a firm grasp of the material. "When I took the second exam every question fell into place. I could understand them very clearly." Not only did Omar land a job he loves, he also joined CARE Centre's board of directors as a member representative.
The exam preparation course is available several times a year delivered by a number of expert instructors, like Hamilton-based Sadie Sattan, shown here with CARE Centre member Yemewedish Daemo celebrating her nursing registration. More detailed information is available on the website at www.care4nurses.org/what-we-do/exam-preparation.
Partner Focus: Visual Ethnography Study with York University Reflects Workplace Experiences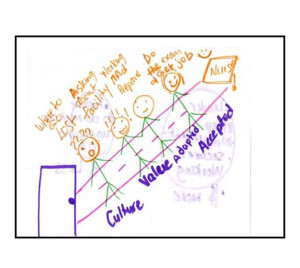 CARE Centre has had a long-standing collaboration with York University's Internationally Educated Nurse program through the School of Nursing and faculty member Dr. Patricia Bradley. In a unique research project, CARE Centre's Zubeida Ramji and Dr. Bradley undertook a visual ethnographic research project to further understand the experience of IENs transitioning into the workplace. A purposive sample of 15 CARE Centre member IENs employed as RNs and/or RPNs in Ontario were brought together to share their personal integration journeys. The IENs were asked to draw a picture or pictures that represented their experience of being an IEN who transitions into the workplace in Ontario. The focus group was audio recorded to describe and reflect on what the images conveyed and to allow for further analysis. There were many representations of paths and stairs and highs and lows. One IEN commented, "…it's a long process, especially for internationally educated nurses…maybe they don't trust us…they all told me, 'you don't have any experience…'"
"Major themes emerged through the analysis of images and focus group data with several implications to assist the transition of IENs into the workplace," said Dr. Bradley. "Innovative research such as this that creates safe places for IENs to express themselves in different ways, and in their own words, informs us. We need to encourage IENs throughout their education to focus on those soft communication skills to ease their transition to rewarding employment."
More information on York University's Bachelor of Science in Nursing (BScN) for Internationally Educated Nurses is available at www.yorku.ca/health/nurs/programs_inter_educated.html.