Employer Workplace Transition Support Workshop
CARE Centre has recently launched a new program called, Workplace Transition Program (WTP) to facilitate the recruitment and retention of Internationally Educated Nurses (IENs), who are a talented human resource pool, in Ontario. This program aims to take the stress out of hiring and transitioning new staff from diverse population giving employers the tools and confidence to get it right every time.
As part of the WTP program, CARE Centre offers employers in different regions with a 2-4 hours workshop on workplace transition supports (WTS) specific to employers. The Employer WTs workshop is designed to: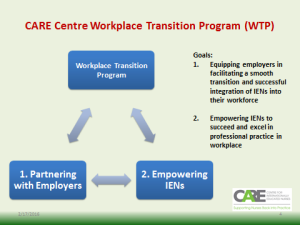 Delineate and explore ways to diversify and empower your team of workforce using cultural competence approach;
Examine issues being experienced by employers in workplace and explore culturally-competent and practical ways to recruit and retain staff from diverse groups;
Raise awareness about IENs as talented pool of HHR, and about the MOHLTC' Nursing Career Orientation (NCO) initiative specific to IENs recruitment
Explore ways to set up or evolve customized recruitment and orientation/transition programs for new hires from diverse population;
Prepare participants to provide continuous and periodic training to own staff, using the train-the trainer approach.
Should you believe your organization/region benefits from such a workshop, please contact Joanne Roth at jroth@care4nurses.org to set up a workshop at your region.
Current Available Employer Workplace Transition Workshops