CARE Centre Executive Director Sue VanDeVelde-Coke
Sue VanDeVelde-Coke, RN, MA, MBA, PhD, has been meeting with organizations in the settlement and healthcare communities since becoming CARE Centre's Executive Director at the beginning of the ye
ar. An established nursing leader, Sue has been renewing existing relationships with healthcare employers and nursing professional organizations and has been attending conferences related to immigration and internationally educated professionals' integration to the Canadian workforce. She observed the delivery of the IENCAP OSCE at Touchstone Institute to gain deeper understanding of the process for CARE Centre's RN candidates and is meeting with CARE Centre's members and their case managers to explore how CARE Centre can improve and enhance services. "These first months in the job have been extremely interesting gaining more insight into the IEN journey to registration," said VanDeVelde-Coke. "It's wonderful to experience how our case managers are dedicated to helping IENs in Ontario relaunch their nursing careers." Sue welcomes input via email at svandevelde@care4nurses.org, or as she likes to say, "The telephone still works!" 416-226-2800, ext. 226.
We Love It When Our Members Keep in Touch!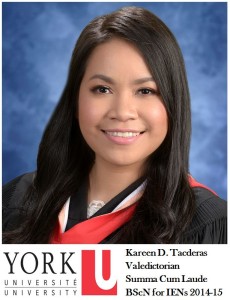 Hello! This is Kareen Tacderas. I am an IEN from the Philippines. Since I came to Canada in 2012, I have been a CARE Centre member. I recently graduated Summa Cum Laude and Class Valedictorian of York University's BScN for IENs Batch 2014-15. After graduation, I have been hired as a full-time ICU RN at Humber River Hospital – Wilson site. I would like to thank your organization (especially Lourdes Vicente who was once my case manager) for guiding IENs like me and helping me reach my dreams. If there's anything I can do to give back to CARE, please do not hesitate to contact me. More power to CARE Centre! (Editor's note: Member IENs, please let us know about your career updates. Email tnovotny@care4nurses.org with your nursing news!)
CARE Centre Celebrates 15 Years of Service in 2016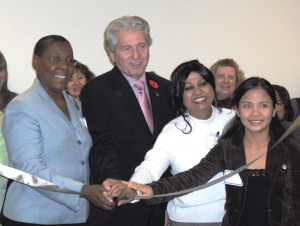 On May 29, 2001, the Ministry of Training, Colleges and Universities formally announced the launch of CARE Centre for IENs. CARE Centre grew out of a committee of concerned individuals and organizations who received a grant from the Maytree Foundation to develop a proposal to create Ontario's first government-funded bridge training program. The consortium included nursing associations, employers and settlement agencies, as well as an IEN champion at the College of Nurses of Ontario, Brenda Lewis. CARE Centre is now funded by the Ministry of Citizenship, Immigration and International Trade through the Labour Market Integration Unit. Over 15 years CARE Centre expanded offices and services across Southern Ontario, assisting thousands of IENs on their journey to registration. Stay tuned for plans to celebrate CARE Centre's members and the organization's achievements later in 2016. (Photo above: Brenda Lewis with guests at the Hamilton office opening in 2005)
PASS Clients Well-Prepared When They Arrive in Canada
CARE Centre's Pre-Arrival Supports and Services (PASS) program offers case management, webinars and online learning for IENs around the world as they progress through the Canadian immigration process. The Department of Immigration, Refugees and Citizenship has made it possible for IENs to get well ahead of the registration process while still in their home countries. Many clients have been referred through the Canadian Immigration Integration Project (CIIP) and Canadian Orientation Abroad (COA), two federal agencies that have joined under the name  Planning for Canada. "It's really exciting to present live webinars and be connected to IENs in Nigeria, India, Pakistan, Ireland and the Philippines, all at the same time," said Case Manager and PASS Co-ordinator Meghan Wankel. "I've already had a husband and wife pair of IENs land in Toronto since we started, and IENs tell me that PASS is helping them enormously." Visit the website at www.pass4nurses.org for continued updates. (Photo: PASS Program Coordinator Meghan Wankel and Program Assistant Nicholas Ghadiri)
IENs Help Create New Horizons for Senior Immigrants
Kababayan Community Services, one of CARE Centre's founding organizations, recently collaborated with CARE Centre member IENs to reach out to elder citizens to talk to them about their challenges living in Toronto as senior immigrants, and to ask what kind of programs and services would improve their lives. The resulting report is called Benefits and Challenges of Aging in Canada: A Sharing Discussion Between Seniors and Internationally Educated Nurses (IENs). One IEN summarized, "We are now more aware of their needs, emotions and feelings of being senior. Our challenge is how we can make a home for them away from their homes." Another IEN stated, "The project has made me more sensitive about being able to validate seniors' needs.  I found at that they were hopeful and motivated to talk about their conditions." A video about the project that will be shared on CARE Centre's YouTube channel is currently in production.  (Photo: The cross-cultural group of participating seniors and IENs)
Master's Research on the IEN NCLEX Experience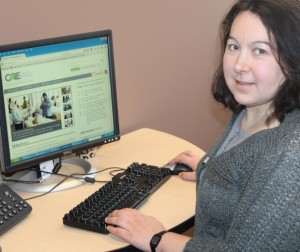 CARE Centre has an on-going tradition of working with graduate nursing students and supporting their research into various fields and topics. Meet our latest academician. "Hello, my name is Monica Romanescu and I am an IEN with nursing experience in Romania and in Canada. My passions include supporting Internationally Educated Health Professionals in their transition to practice in Ontario.  As a graduate student at Ryerson University, I am doing my clinical placement with the CARE Centre. During my clinical project my main focus has been on resources used by IENs in preparation for their NCLEX-RN exam."
.