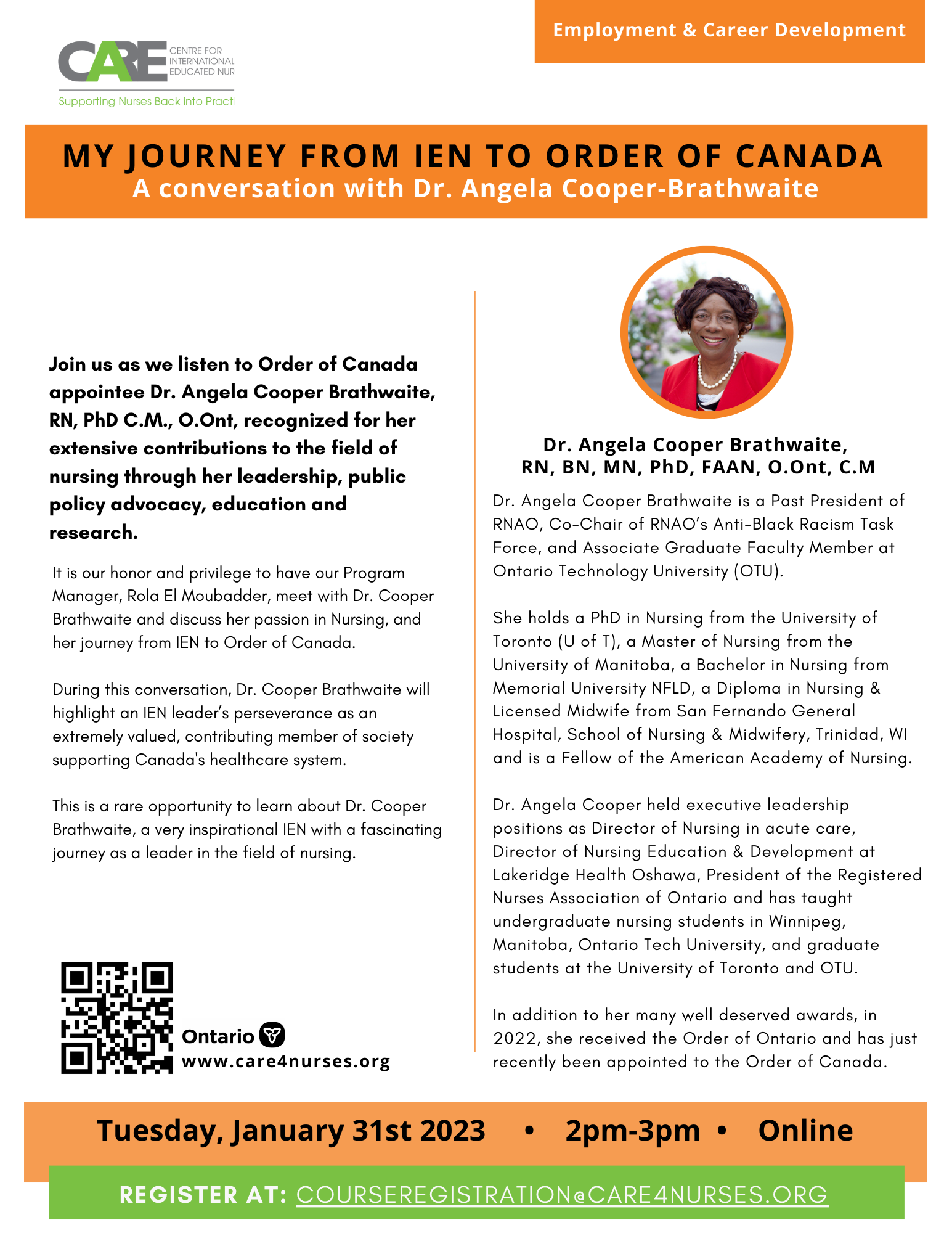 My Journey from IEN to Order of Canada: A conversation with Dr. Angela Cooper-Brathwaite
944
944 people viewed this event.
Join us as we listen to Order of Canada appointee Dr. Angela Cooper Brathwaite, RN, PhD C.M., O.Ont, recognized for her extensive contributions to the field of nursing through her leadership, public policy advocacy, education and research.
It is our honor and privilege to have our Program Manager, Rola El Moubadder, meet with Dr. Cooper Brathwaite and discuss her passion in Nursing, and her journey from IEN to Order of Canada.
During this conversation, Dr. Cooper Brathwaite will highlight an IEN leader's perseverance as an extremely valued, contributing member of society supporting Canada's healthcare system.
This is a rare opportunity to learn about Dr. Cooper Brathwaite, a very inspirational IEN with a fascinating journey as a leader in the field of nursing.
Dr. Angela Cooper Brathwaite,
RN, BN, MN, PhD, FAAN, O.Ont, C.M
Dr. Angela Cooper Brathwaite is a Past President of RNAO, Co-Chair of RNAO's Anti-Black Racism Task Force, and Associate Graduate Faculty Member at Ontario Technology University (OTU).
She holds a PhD in Nursing from the University of Toronto (UFT), a Master of Nursing from the University of Manitoba, a Bachelor in Nursing from Memorial University NFLD, a Diploma in Nursing & Licensed Midwife from San Fernando General Hospital, School of Nursing & Midwifery, Trinidad, WI and is a Fellow of the American Academy of Nursing.
Dr. Angela Cooper held executive leadership positions as Director of Nursing in acute care, Director of Nursing Education & Development at Lakeridge Health Oshawa, President of the Registered Nurses Association of Ontario and has taught undergraduate nursing students in Winnipeg, Manitoba, Ontario Tech University, and graduate students at the University of Toronto and OTU.
In addition to her many well deserved awards, in 2022, she received the Order of Ontario and has just recently been appointed to the Order of Canada.