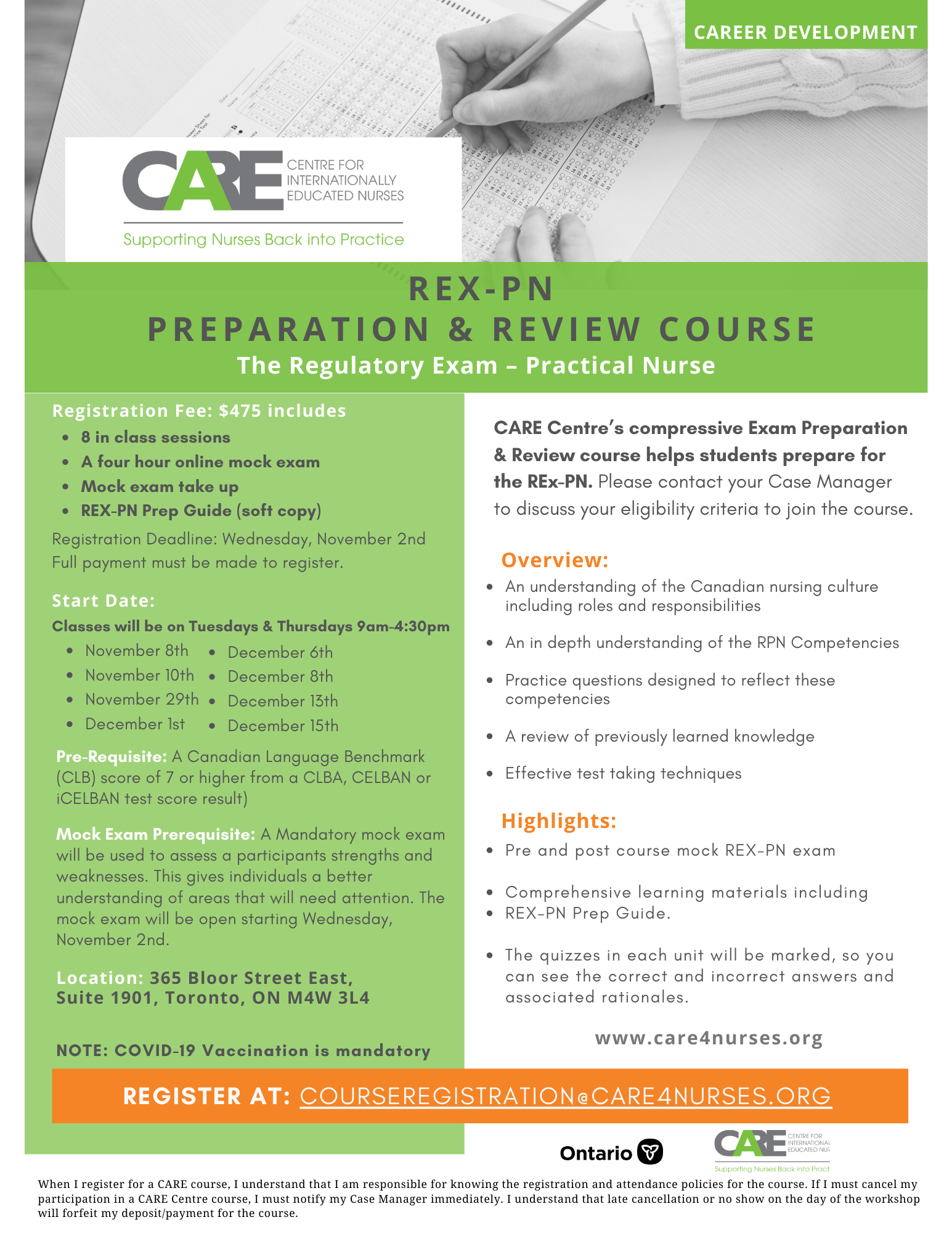 REX-PN PREPARATION & REVIEW COURSE
437
437 people viewed this event.
The Regulatory Exam – Practical Nurse
CARE Centre's compressive Exam Preparation
& Review course helps students prepare for
the REx-PN. Please contact your Case Manager
to discuss your eligibility criteria to join the course.
Overview:
• An understanding of the Canadian nursing culture including roles and responsibilities
• An in depth understanding of the RPN Competencies
• Practice questions designed to reflect these competencies
• A review of previously learned knowledge
• Effective test taking techniques
Highlights:
• Pre and post course mock REX-PN exam
• Comprehensive learning materials including REX-PN Prep Guide.
• The quizzes in each unit will be marked, so you can see the correct and incorrect answers and associated rationales.
Registration Fee: $475 includes
8 in class sessions
A four hour online mock exam
Mock exam take up
REX-PN Prep Guide (soft copy)
Registration Deadline: Wednesday, November 2nd
Full payment must be made to register.
Classes will be on Tuesdays & Thursdays 9am-4:30pm
Pre-Requisite: A Canadian Language Benchmark (CLB) score of 7 or higher
(from a CLBA, CELBAN or iCELBAN test score result)
A Mandatory mock exam will be used to assess a participants strengths and weaknesses. This gives individuals a better understanding of areas that will need attention.
NOTE: COVID-19 Vaccination is mandatory