New Minister of Citizenship and Immigration Laura Albanese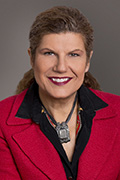 CARE Centre for IENs has a new minister at the helm of our funder, the Ontario Ministry of Citizenship and Immigration. The Hon. Laura Albanese was first elected to the Ontario legislature in 2007 as the MPP for York South-Weston. She was re-elected in 2011 and 2014 and has extensive experience in several ministries as a Parliamentary Assistant. Prior to entering politics Ms. Albanese was a producer/broadcaster with OMNI TV. Ms. Albanese was born in Italy and moved to Canada in 1981. CARE Centre is grateful for the letter of congratulations she sent to be read on the occasion of CARE Centre's 15th Anniversary and 2016 Graduation.
15th Anniversary and 2016 Graduation a Happy Occasion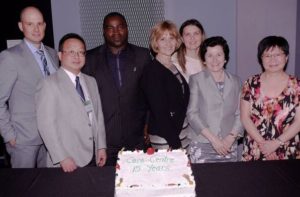 On June 27th CARE Centre board members gathered for the Annual General Meeting, followed by a celebration at the Daniel's Spectrum for CARE Centre's 15th anniversary and the graduation of our most recent cohort of IEN clients. Derrick Ntungwe shared a moving speech about his journey to registration as valedictorian, and five past Joan Lesmond IENs of the Year attended to offer further inspiration. CARE Centre friends, staff and supporters enjoyed an evening of reminiscence while IEN grads shared their time in the spotlight with family guests. A total of 109 IENs passed their exams in the last fiscal year 2015-2016; many were registered as RPNs and/or RNs and hired in various nursing sectors.
Best Wishes to Board Member Ella Ferris on her Retirement from St. Michael's Hospital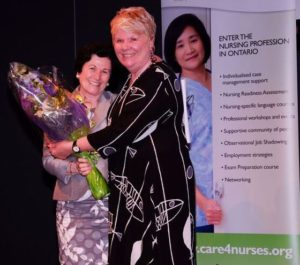 Board Member and Joan Lesmond IEN of the Year Awards Committee Chair Ella Ferris will continue her governance work with CARE Centre but is retiring from her role at St. Michael's Hospital as Executive Vice-President of Programs and Chief Executive, Nursing and Health Disciplines Executive. As guest speaker at the anniversary event, Ella shared her story of deciding to be a nurse as a child, and achieving her goal over a 43-year career at St. Mike's. Ella did her nurse education at the prominent Toronto hospital, worked as a front-line RN, became a clinical nurse manager, was promoted to Director of the Heart and Vascular Program, became an Assistant Professor of Nursing at University of Toronto and eventually rose to St, Mike's top executive ranks. CARE Centre is thankful for Ella's continued involvement on the board and wishes her all the best on her retirement.
CARE Centre Membership Criteria Change Approved by MCI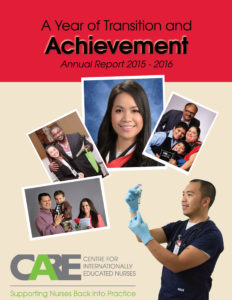 With the Ministry of Citizenship and Immigration's agreement, we have changed our admission criteria and are now accepting IENs as members upon the completion of their National Nursing Assessment Service (NNAS) application. Since the start of the new fiscal year on April 1st we have welcomed 103 new CARE Centre members. All CARE Centre's open files have recently been reviewed. Since 2001, over 3,500 nurses from more than 140 countries have accessed services and supports at CARE Centre. We now have 1100 active clients divided among all the case managers. A new case manager service delivery model is being developed and implemented.
PASS Clients Arriving in Canada and Joining CARE Centre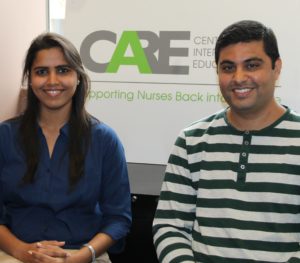 Now in its fifth month of operation, Pre-Arrival Supports and Services (PASS) has had 72 clients enroll in the program. Of those, 28 IENs have arrived in Ontario; many have joined or intend to join CARE Centre to continue with case management support on their journey to registration. PASS clients participate from home countries all over the world including India, the Philippines, Nigeria, China, Greece, Iran, Israel, Japan, Korea, Spain, the United Kingdom, Syria and Thailand. In another exciting development, expert nurses from the Canadian Nurses Association (senior in their careers or retired) have signed up to mentor arriving PASS clients in provinces across the country, providing a further welcome and on-going support as IENs establish their careers in Canada.
Member IEN Ivory Quimba Recognized by Bayshore Home Health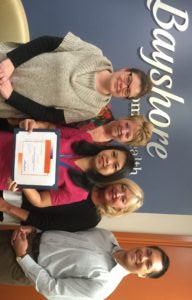 Member IEN Ivory Evariz Quimba was recognized as Nurse of the Year by Bayshore Home Health at their Mississauga Private Branch. Bayshore is one of Canada's largest providers of home and community health care, now in its 50th year of service. Ivory was honoured on May 9th at her workplace at the start of National Nursing Week 2016. Ivory came to Canada from the Philippines in 2009 and was registered as an RPN in 2011. Her case manager Norma Tomlin said, "I am truly happy for her and proud to see a CARE Centre member come out on top!" Congratulations on your nursing career success, Ivory, from all of us at CARE Centre.