Loy Asheri, RN, Cardio Vascular Intensive Care Unit, Sunnybrook Health Sciences Centre; Joan Lesmond IEN of the Year Award Winner, 2011
What was nursing like in your home country?
In Tanzania, people with enough money use private hospitals which are fully equipped. But government hospitals serve about 90% of the population and have little to offer, including medications. Health care teams try hard to be creative in using the few resources available but patients who can't buy their own supplies still end up suffering and dying. The best part of working as a nurse in Tanzania was sharing the same language and culture with the patients to counsel and comfort them.
What are the responsibilities of your current job?


As a Critical Care Nurse working in a Cardio Vascular Intensive Care Unit, I am taking care of very unstable patients. My day-to-day responsibilities include caring for patients who are on ventilators, dialysis or other interventions. It's a very fast working environment and critical thinking is crucial. It's also challenging taking care of clients with poor prognoses and communicating with families using a sensitive, culturally-appropriate approach.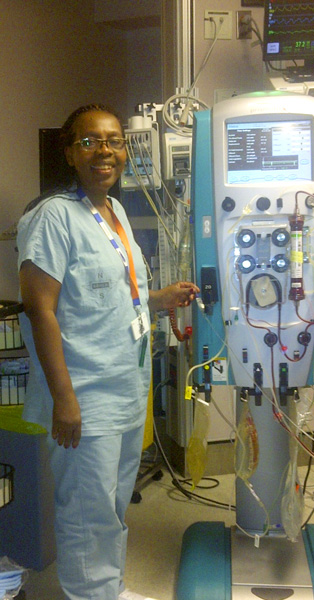 What's the best part of nursing in a large Toronto hospital?
Working at Sunnybrook, which is a large teaching hospital, has given me never-ending learning opportunities. As a member of the Critical Care Education Committee I have been involved in research as well as facilitating implementation of best practices in the unit. Sunnybrook exposes me to health care teams of all different professions. I have also enjoyed being a preceptor for students from Ryerson University, as well as mentoring new staff in our Unit.
How do you see the role of the nurse in Canadian health care?
A nurse spends 24/7 at the bedside with patients and families. The nurse plays an important role in taking the first intervention in a critical and/or emergency situation; families build that therapeutic relationship with the whole health care team through nurses. Generally speaking, the role of nurses is huge.
What has been your proudest nursing moment?
My proudest moment was the day my manager at Sunnybrook, Pamela Meyer, told me that I had been nominated for the Joan Lesmond IEN of The Year Award. It was a joy to receive recognition for my work as a bedside nurse. The day I received the award was the best moment of my nursing career so far!
Any words of advice for IENs on their journey to registration?
All my fellow IENs are so brave in leaving their countries. We may have different reasons why we came here, but we all endure the same challenges. We're all affected by cultural differences, language barriers, the loneliness of family separations, the challenges of getting re-established… and don't forget the ever-changing Canadian weather! It takes courage, hard work, determination and support. CARE Center was my shoulder to lean on and helped me make it to the end of the marathon that was starting my new career as a nurse in Ontario.