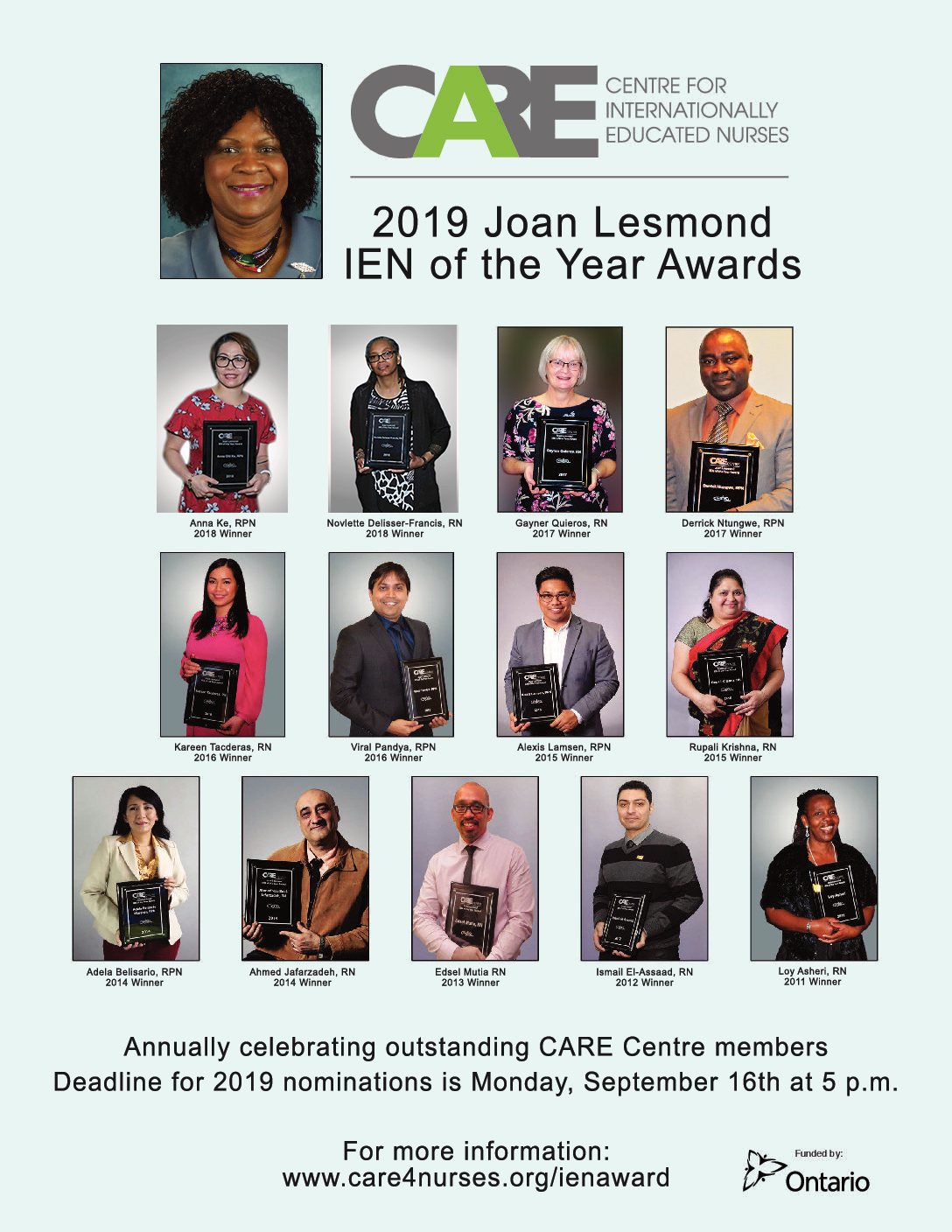 2019 Joan Lesmond IEN of the Year Award Call for Nominations Press Release
---
CARE Centre for Internationally Educated Nurses
Announces the Call for Nominations for the
2019 Joan Lesmond IEN of the Year Awards
The Joan Lesmond IEN of the Year Award was established in 2011 and is presented every year to outstanding internationally educated nurses (IENs) who are members of CARE Centre. The award was named in honour of the late Dr. Joan Lesmond, a nurse leader who championed diversity and inclusiveness. CARE Centre announced the 2019 Call for Nominations during National Nursing Week May 5th – 11th. The nomination kit and more information are available at: www.care4nurses.org/ienaward.
The deadline is Monday, September 16th, 2019.
"We're proud to launch the 2019 IEN of the Year Awards in conjunction with National Nursing Week to highlight IENs' contributions to health care in Canada," said CARE Centre Executive Director Ruth Lee. "Our Internationally Educated Nurses reflect the diverse population in the Canadian Mosaic and bring global experience to the healthcare workplace. Every year we have an incredible field of candidates to consider, and all our member IENs should feel proud of achieving a nomination. The IENs awarded the recognition are exceptional in their dedication to nursing and patient care, and have extraordinary stories about the challenges they faced on their journey to relaunch their career in Canada."
The 2018 Registered Practical Nurse (RPN) IEN of the Year Award was presented to Anna Ke, an IEN from the Philippines who is a professional practice leader at the Yee Hong Centre for Geriatric Care. Novlette Delisser-Francis, a staff nurse working at Carbonear General Hospital in Newfoundland, won the 2018 RN Joan Lesmond IEN of the Year Award.
Over 4,000 nurses from more than 100 countries have accessed services and supports at CARE Centre for Internationally Educated Nurses since 2001. CARE Centre is a not-for-profit professional organization funded by the Government of Ontario. CARE Centre provides IENs with the one-on-one case management, language and communication skills, exam preparation, professional development, mentoring and networking to be successful in the nursing profession. CARE Centre recognizes the value of nurses with diverse education and experience and is committed to advocating for their full contribution to Ontario's health care system. CARE Centre for IENs is a registered charity (Charitable Number 84420 5948 RR0001). To learn more about CARE Centre and its work, please visit www.care4nurses.org.
**Please note our new address
For more information please contact:
Cory LeBlanc
Administrative Coordinator
CARE Centre for Internationally Educated Nurses
128A Sterling Road, Suite 202
Toronto, ON M6R 2B7
416-226-2800, ext. 228