CARE Centre Thanks Outgoing Board Chair Saleem Hall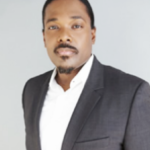 CARE Centre's long-serving board member, Saleem Hall, has resigned as Chair to start "a new life adventure up North in Huntsville Ontario, where I have accepted a position with a local not-for-profit." Saleem previously worked for one of CARE Centre's founding organizations, WoodGreen Community Services, and had been a board member since (2008). Executive Director Ruth Lee said, "On behalf of the CARE Centre team, our heartfelt gratitude to your unfailing support and commitment to CARE over the years. Words cannot express how much I appreciate your guidance, wisdom, dedication, kindness, and great sense of humour since I assumed my role in CARE." Vice-Chair Jean-Jacques Rousseau has assumed interim Chair duties. He stated, "Saleem inherited an organization in transition and helped it build on a solid track record, leaving CARE in a strong position to face the challenges ahead. "Being on the Board at CARE Centre has been one of the most rewarding experiences in my life," said Hall. "I will leave with a quote from my favourite bear: 'How lucky I am to have something that makes saying goodbye so hard.' – Winnie the Pooh. Happy (ski) Trails, Saleem!
2017 Joan Lesmond IENs of the Year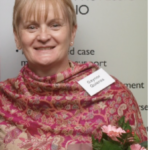 Two outstanding members have been chosen as the 2017 RN and RPN IENs of the Year. Both served as valedictorians for their respective graduating years, going on to impress the selection committee of nurse leaders with their successful nominations. RN recipient Gaynor Quieros is from Wales, and passed the NCLEX exam 33 years after obtaining her RN in the UK. She currently works in telemedicine community mental health nursing and her daughter has recently graduated with her BScN.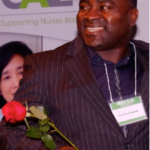 Derrick Ntungwe is an RPN from Cameroon who was nominated by his employer Saint Elizabeth Health Care, where he is a community nurse. Derrick is now pursuing his RN designation and also works at the Centre for Addiction and Mental Health. During his IEN journey to registration, Derrick struggled to bring his wife and three children to Ontario during the West African Ebola epidemic. "Once again the selection committee was incredibly impressed by the determination and resilience of the nominees to overcome many challenges to practice as nurses in Ontario," said Ella Ferris, Committee Chair and CARE Centre Board Member. "Their dedication and professionalism are truly inspirational."
New Curriculum and Courses at CARE Centre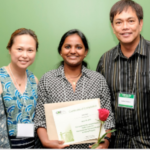 Former Professional Practice Lead Ruth Wojtiuk, RN, MEd and former Case Manager Anaar Shariff, RN, BScN retired from their CARE Centre staff positions last summer, but continue to bring their professional acumen to the organization. Wojtiuk has prepared a new preparation course for the Objective Structured Clinical Exam (OSCE, or IENCAP) to be piloted this fall.
Part of the OSCE Prep Course is a section on relaxation techniques in the form of a four-episode video series contributed by Shariff, a certified yoga teacher. CARE Centre also has a new video to promote updated Language and Communication for Nurses offerings, including iCELBAN assessments and CELBAN exam preparation. Instructor Cara Malla has been teaching internationally educated professionals for many years, and has helped evolve the LCN curriculum through CARE Centre member feedback and advances in the field.
CARE Centre Program Manager Joanne Roth said, "As the nursing regulatory environment continually changes, we are focussed on staying ahead of trends and developments to offer the best supports to our member IENs for registration success."
CARE Centre for IENs on OMNI TV's New Canadians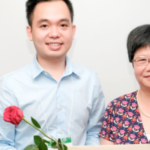 CARE Centre's Pre-Arrival Supports and Services (PASS) program, funded by Immigration, Refugees and Citizenship Canada, was featured on NEW CANADIANS on OMNI TV stations across the country at the beginning of 2017, and now we'll start out 2018 with an episode featuring CARE Centre's services in Ontario. CARE Centre is funded by the Ontario Government through the Ministry of Citizenship and Immigration. NEW CANADIANS is a rich and informative web and TV show produced by New Horizons Media, and hosted by Gerard Keledjian and Rachel Lee.
The magazine-style presentations showcase settlement, education, employment and small business resources available to newcomers to help them maximize their chances of success and ease their integration into the Canadian workforce. "For 16 years CARE Centre has been a leader in customized programs and one-on-one case management support for internationally educated nurses," said producer Keledjian. "It's exciting to profile an organization that was one of the first to offer bridge-training to a specific group of international health professionals, and that has continued to innovate to meet regulatory requirements." Both the PASS and CARE Centre episodes will be online at http://newcanadians.tv/. Further announcements will be made for the OMNI TV broadcasts.
PASS and CARE Centre Member IEN Success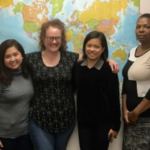 CARE Centre promotes membership for life (with a one-time fee of $150!), and everyone speaks of the CARE Centre "family". Recently our case managers shared updates from clients who shared some milestones in their Canadian nursing careers. Featured in this holiday photo (third from right) is member IEN Novlette Delisser-Francis. Her case manager Michelle Gordon recounted that she "went to a job fair in Toronto and was offered a temporary position as an RN in Newfoundland which led to a full-time job in the Medicine Unit. "Just want to say thanks to you, CARE Centre and Ontario for all the assistance given to me while trying to secure my RN license," said Novlette.
Case Manager Lourdes Vicente shared this visual sent by member Rittiya Augustine, created by her proud husband congratulating her for passing the NCLEX-RN exam. Pre-arrival Supports and Services (PASS) Co-ordinator Meghan Wankel and others in the office were excited to meet two PASS member IENs who are settling in Ontario. Cristina Giron and Pamela Campos met in a Planning for Canada information session in Manila, and went on to become active PASS members through online webinars and chat rooms. and case managers Michelle Gordon and Maria Krumov.
CARE Centre Conference Presentations and Posters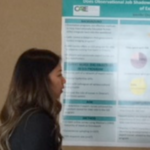 This fall there's a lot to round up for CARE Centre's presence at nursing and immigration conferences in 2017. CARE Centre and PASS have become recognized leaders in both theory and methodology in the success of IENs in Ontario and Canada. The Partners in Integration and Education of IENs (PIE-IEN) was held in Halifax in April, with a presentation on PASS by Co-ordinator Meghan Wankel and a poster presented by Observational Job Shadowing Lead Lourdes Vincente and Master of Nursing student Jennifer Cheng. In May, Executive Director Ruth Lee and PASS Assistant Nicholas Ghadiri attended the Conference Board of Canada annual Canadian Immigration Summit in Ottawa examining innovations to build an even stronger immigration system. PASS Co-ordinator Meghan Wankel and CARE Centre Program Manager Joanne Roth presented at the 12th Metropolis World Congress in Montreal in June under the theme "Global Challenges: Major Cities in Action". In October Dr. Lee and Meghan presented at the 2017 Canadian Network of Agencies for Regulation Conference in Halifax and later in the month Dr. Lee presented a poster at the Conference of the Transcultural Nursing Society in New Orleans. Another poster presentation at the Pathways to Prosperity conference in Toronto was facilitated by Meghan Wankel and Michelle Gordon.