Peel Region is young, successful and growing fast, as CARE Centre celebrates a year and a half of providing services to IENs in the region. New Canadians make up 50 percent of Peel's population, with a median age of 35.6 and an average household income of close to $73,000. Peel is home to more than 93 distinct ethnic groups and 60 different languages. Recent immigrants make up over 10 percent of the population, and many of them come to Community Door, a resource centre at 7700 Hurontario Street where CARE Centre shares office space with the Centre for Education and Training.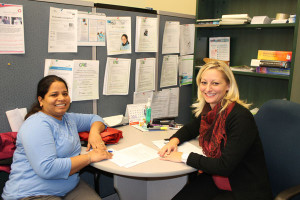 CARE Centre Case Manager Norma Tomlin has seen a surge in new members seeking support on their journey to obtain nursing registration in Ontario.. "There's no question that this area is booming, and the calibre of clients we have coming to information sessions and becoming members shows these IENs are highly qualified and eager to resume their careers in Ontario. As well as the education they bring from their home countries they're very focused on professional development; we're seeing increased discussion about preparing for the new Jurisprudence Exam in the CNO registration process, and we can ensure our clients are gaining Canadian perspective in professional issues and standards of practice through courses like Nursing in Ontario."
CARE Centre member Harminder Kaur (in photo) just became licensed as an RN, and is interviewing with several area employers. "CARE Centre helped me to understand how the Canadian health care system works and Norma always provided me with the right direction to get my license – I really have to thank her and CARE Centre!"
"Good things are coming to our members, and we can only see expanding opportunities for them in Brampton, Mississauga and other communities," says Tomlin. Agrees CARE Centre member Chander Prabha Randhawa, "I recently I got a RN position at Brampton Civic Hospital and I am very excited about that. I passed the RPN exam in April 2011 and the RN exam in February of 2012, all with the help of CARE Centre." Randhawa participated in CARE Centre's Multi-lingual Video Project, recording a message in Hindi to help spread the word about CARE Centre through YouTube and the website. "It's my way of saying thanks!" Click on the video visual, or watch it on CARE Centre's channel.