Adela Belisario was a valedictorian at her CARE Centre graduation celebration in 2011, has been an active CARE Centre alumni member, and now works at the Dorothy Ley Hospice in Etobicoke, a ten-bed facility that also provides hospice home care to more than 200 patients in the community, day programs, and bereavement support for families and friends. To find out more visit www.dlhospice.org.
What was your biggest inspiration to become a nurse?
When I was a child I always admired nurses and doctors. I thought, 'When I grow up I can be one of them, I will help people to heal by taking care of them and teaching them how to have a healthy life'. My aunt was a community nurse, she never was at home, when I visited, she was always giving vaccinations to the community, or visiting different groups of people to provide educational seminars. I admired her dedication.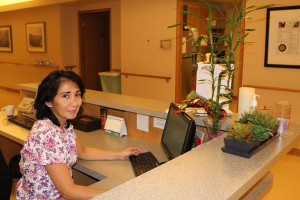 What was nursing like in your home country?
In Peru I used to be the Circulating Nurse, a role that I developed in the Operating Room, checking the equipment for proper functioning, preparing the instruments and equipment needed in the operation, preparing patients prior to operations and anticipating the anesthesiologist's needs.
I also collaborated in activities to raise funding for the hospital. Sometimes, I worked pro bono when there were people unable to pay for health care services. This was particularly hard as my compensation as a nurse was barely enough to make a living. But I felt that being a nurse was not only a job but also a commitment to help people. I still feel the same way.
Why did you want to pursue nursing in Canada?
I chose Toronto as my new home because I wanted to live in a city with promising potential in health care, work, and education, not to mention a good place to raise a family. Here, I could offer compassionate care to individuals who are living with the challenges of a life-limiting illness or loss, and help them live in comfort with their pain managed, and to see them to the end of their lives with dignity, meaning and hope.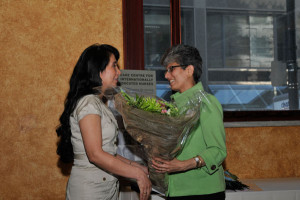 What was your biggest obstacle?
I started looking for a nursing job right away. Before long, I found that it was not going to be that easy to work as a nurse again. My English needed improvement; the nursing license application seemed so complicated; on top of that, I had to make a living in a city where I did not have any relatives or friends to help me out. Soon after landing in Toronto, I knew that my commitment to become a nurse was about to be tested.
What has been your proudest nursing moment?
My proudest moment was when I received my nursing licence from CNO and also I was happy when I was nominated for the Joan Lesmond IEN of The Year Award. I would never forget those special moments on my life.
Words of advice for IENs on their journey to registration?
I believe we all, as immigrants, share the same spirit of courage, passion and commitment. It is a challenge to become a nurse in Canada but not impossible. The golden rule is persevering to reach our goals.