London Health Sciences Centre played (LHSC) host to an award reception to celebrate member Ismail El-Assaad as the 2012 CARE Centre Joan Lesmond IEN of the Year. Ismail is a Palestinian nurse who studied and worked as a senior nurse and nurse educator in Lebanon and Dubai, and now works in the Intensive Care Unit at LHSC University Hospital. "Coming to Canada was always a dream for me; I was devoted to exploring and experiencing the uniqueness of the nursing profession in Canada, and for a person like me who always likes to be up to date with advanced practices and technology involved in nursing, Canada seemed like the land of opportunity," stated Ismail in his winning essay.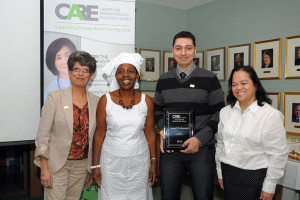 Ismail was nominated by his nursing supervisor Mary Kroh, Coordinator of Cardiac Surgery, University Hospital Intensive Care Unit. Kroh commented, "Since Ismail started in the ICU I have received several letters commending Ismail on his exceptional care, compassion and professionalism; one was about the care given to a dying family member. The empathy and support was appreciated and of great comfort to the family in a time of sadness. Another was from a post-operative cardiac surgery patient that describes the care received from Ismail as exceptional, declaring 'I was cared for as a person, not just a patient.'"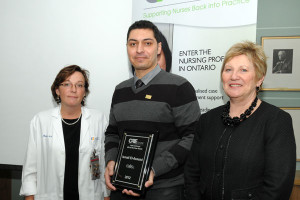 "None of this could have happened without CARE Centre," El-Assaad said, "They put me on the right track. Their specialized courses really helped." Ismail, who is planning to return to school to do a master's degree, faced tough competition and was selected from an outstanding field of member nurses who are exemplary professionals and compassionate caregivers. LHSC CEO and President Bonnie Adamson, who is herself a former nurse, spoke at the event, and Ismail received his award from last year's winner, Loy Asheri. Ontario Health Minister Deb Matthews provided a video greeting. Also on hand for the celebration were CARE Centre Executive Director Zubeida Ramji and board member Flor Dandel, Executive Director of Kababayan Community Centre. The call for nominations for the 2013 award will go out in June.
IEN Day in Toronto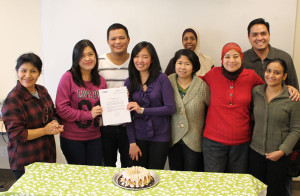 In 2011, November 17th was marked as Internationally Educated Nurses Day in Toronto by Mayor Rob Ford to commemorate CARE Centre's 10th anniversary. The proclamation was re-issued this year, which found many CARE Centre members hard at work on a Saturday in Exam Preparation and Review and Language and Communication for Nurses classes – the least we could do was get them a cake! Members were back in the classroom to complete a weekend mock exam getting ready to sit their CRNE and CPNRE. More information on CARE Centre's Exam Preparation and Review course is on the website.
Four OHA-NHSRU Presentations in Ontario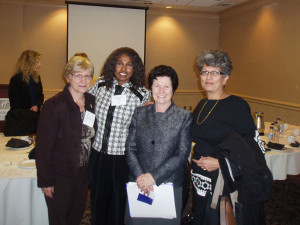 Executive Director Zubeida Ramji joined a four-stop tour of the Ontario Hospital Association & Nursing Health Services Research Unit's initiative The Path to Integration – Workshops for Employers of Internationally Educated Nurses. The presentations were held in Toronto, Niagara on the Lake, Ottawa and Windsor offering current research, discussing IEN employment trends, community supports for IENs and employers, as well as lessons learned by employers such as Hamilton Health Sciences and St. Michael's Hospital. The project is funded by the Ministry of Citizenship and Immigration, with an Employer's Guide developed by Dr. Andrea Baumann and Dr. Jennifer Blythe. For more information about the IEN Project, visit ien.oha.com/Pages/IENMain.aspx.
Welcome to the Members Only Website
If you missed the e-blast inviting members to sign up with their access to their exclusive Members Only Website, please contact Marketing and Communications Coordinator Tina Novotny at tnovotny@care4nurses.org. All CARE Centre members can access job postings, the CARE Centre calendar of courses, workshops and events, and employer profiles, plus share with their fellow IENs through various forums on a variety of topics. Member Sophia Morgan commented, "I welcome this move that CARE Centre for Internationally Educated Nurses has made. With most organizations streamlining connections with interested parties through the internet, I see this new development a huge success in CARE reaching more IENs who need support and guidance in regaining their nursing designation in Canada. Thanks and I anticipate a fun and informative interaction through this medium." Many thanks to Alumni Coordinator Akiko Kobayashi for all her hard work in the last year in organizing and outreach to members!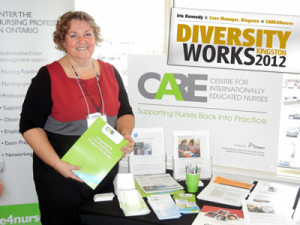 Diversity Works in Kingston
Kingston Case Manager Iris Kennedy and Regional Manager John Mavrogiannakis staffed the CARE Centre table at the late-November Diversity Works Symposium for local job seekers and business professionals. The Diversity Works Symposium brings together new immigrants, local businesses and community organizations to share knowledge, build contacts and promote the importance of Internationally Educated Professionals in the local economy. The Kingston Immigration Partnership (KIP) also published the 2012 GLOBAL TALENT/LOCAL BUSINESS magazine which CARE Centre member Monica Shin is featured in the issue talking about her journey to registration and employment at Kingston General Hospital. For a range of resources and information, including the 2012 Report Card for KIP visit kipcouncil.ca.
Windsor Essex's Local Immigration Partnership
CARE Centre Windsor was a bronze sponsor at Job Day, an annual event with more than 600 attendees and 80 employer exhibitors. Participants exhibit to recruit candidates and to promote their various programs and services at a single, large and unique recruitment event. CARE Centre Case Manager Domine Rutayisire also attended the first Windsor Essex Local Immigration Partnership Community Forum. The vision of the Local Immigration Partnership is to offer a venue for the development of a more integrated and coordinated approach to service delivery. This approach requires assistance from the community to promote the social and economic contributions immigrants make to the region, as well as identifying and addressing the systematic barriers that many newcomers experience when integrating into the Canadian culture.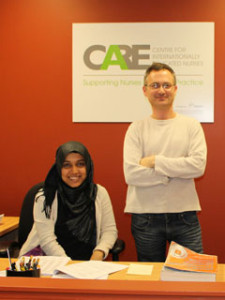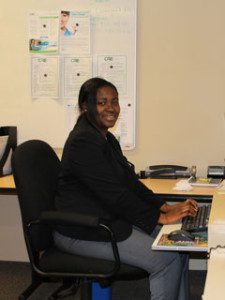 Toronto has a new front office and new faces
Many Toronto-area members have already met Michael Frank, CARE Centre's new Client Services/Reception Coordinator, seen here with Halima Khatun who is still part of CARE Centre as she completes her ESL teaching program. Michael put a fresh face on CARE Centre's front office, with the reference library finding new premises in the Member Common Room. CARE Centre welcomed Janet Kwansah as a new Case Manager recently. Not only does Janet bring her extensive experience as an RN in Ghana, where she also completed an MBA in Health Services Administration, working for many years within the Ministry of Health, she has the unique insight of a CARE Centre member! Janet joined CARE Centre in 2011, and achieved registration in June of this past year. Janet says both Language and Communication for Nurses and the Exam Preparation and Review courses were highlights of her CARE Centre action plan. "Exam Prep gives you a platform to organize your knowledge base and your studies, and LCN gave me skills I could transfer to my Health Assessment course, to know how to ask questions and give feedback and interact with both patients and staff – it gives real insight into Canadian culture."
Special Info Session for Persian Community; Multi-lingual videos now on YouTube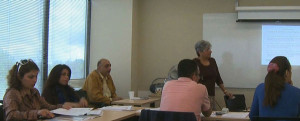 Ahmad Baki is one of CARE Centre's most active alumni members, and was the driving force behind a special information session for members of the Persian community, including IENs from his home country of Iran, which consistently ranks as CARE Centre's fourth-largest client group. "I got very positive feedback from the international nurses who attended," said Ahmad Baki, "CARE Centre places a strong emphasis on up-grading nurses' information regarding holistic patient care. Having gained considerable professional insight through my clinical placements, I have been able to see first-hand that this leads to better outcomes. CARE Centre also helps clients update résumés, academic transcripts and clinical placement reports, which is why I was eager to introduce my colleagues to CARE Centre's range of services." Ahmad was involved in a video project at the time of the 10th anniversary he started the idea for the Multi-lingual Video Project by providing a message to Farsi-speaking IENs. CARE Centre went on to record a total of 16 members speaking in their native languages, and now the videos are available online to reach IENs before they come to Ontario to prepare to meet the regulatory changes at the College of Nurses. Coming to the CARE Centre website, and available for viewing at youtube.

Employment Strategies Piloted in Hamilton
CARE Centre Hamilton recently piloted a new CARE Centre workshop series called Employment Strategies for Nurses, delivered by Case Manager Adilla Saloojee. The program was initially developed by Michelle Gordon and further developed by the Employment Strategies Team comprised of CARE personnel from both the East and West regions. It was earlier piloted in Toronto by case managers Michelle Gordon and Lourdes Vicente. "Employment Strategies for Nurses is a critical support for our members who have or will soon be achieving their registration with CNO and are eager to enter the labour market as efficiently as possible," said Saloojee. "Because this program has been tailored to the Canadian nursing context, it is much more beneficial to our members than a general job search workshop. "Facilitators engage participants in eight modules which are outcome-based and initially help them construct a personal profile and application documents which highlight their relevant knowledge-base, transferable skills and achievements. Eventually, participants are equipped with the knowledge to navigate local recruitment processes and self-market their unique nursing backgrounds with confidence. IENs who participate in these workshops not only succeed in securing nursing employment, they also increase their capacity to maintain and progress in their careers as Nurses in Ontario. Check the CARE Centre and Members Only websites for information on upcoming workshops.