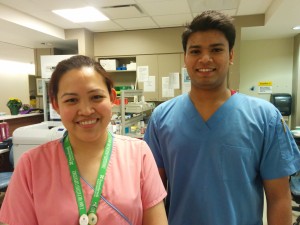 CARE Centre's Observational Job Shadowing (OJS) is a unique learning opportunity for Internationally Educated Nurses (IENs) who are CARE Centre members to be partnered with an expert nurse through two to three work shifts and observe first-hand the nursing profession in Ontario.
It aims to increase the understanding of IENs about the role and scope of practice of a nurse in a particular health care setting and get them more acquainted with the language and culture of the Canadian workplace. CARE Centre members who meet OJS requirements are eligible to join CARE Centre's OJS program at any stage of their journey to registration and after.
Mandatory requirements include:
OJS application form
Detailed Learning Plan
One of the following:

Invitation to complete the Internationally Educated Nurses Competency Assessment Program (IENCAP)/Objective Structured Clinical Examination (OSCE) or Competency Assessment Supplement (CAS) and successful completion of jurisprudence exam
Passed National Council Licensure Examination (NCLEX) or Canadian Practical Nurse Registration Examination (CPNRE)
Registered as Registered Nurse (RN) and Registered Practical Nurse (RPN)
CoursePark certificates:

Workplace Hazardous Materials Information System (WHMIS) for Healthcare Personnel
Standard Precautions
Documentation and Reporting
Patient Rights
Building Patient Rapport
Patient Interview Techniques
Immunization records
CPR ( Cardiopulmonary resuscitation) / BCLS (Basic Cardiac Life Support) Level C for HCP (Healthcare Providers)
Police clearance (6 months validity)
Accident insurance ($30.00 fee)
Application Process:
Complete application and submit along with all required documentation (as listed above) to your CARE Centre case manager
Upon approval of application and verification of documents schedule attendance at the next available OJS registration/orientation session
As it may take one to three months to arrange a placement so it is advisable to submit your application with complete requirements in a timely manner
The OJS Coordinator will provide a list of participating healthcare facilities at the registration/orientation session. Effort will be made to arrange a placement in your preferred facility. However, if a suitable placement is not available we will follow up on your second choice.
Our Partners