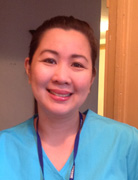 By
Lourdes Vicente
CARE Centre's Observational Job Shadowing (OJS) is a unique learning opportunity for member IENs to be partnered with an expert nurse through two to three work shifts and observe first-hand the nursing profession in Ontario. The program aims to increase IENs' understanding about the role and scope of practice of a nurse in a particular health care setting, and get them more acquainted with the language and culture of the Canadian workplace. "We know that some employers still have hesitations about hiring IENs because they're unsure of their ability to communicate effectively and integrate well into the inter-disciplinary team environment," said CARE Centre Professional Practice Lead Ruth Wojtiuk who helped redesign the program recently. "We're also well aware that one of the biggest barriers for IENs to find jobs is a lack of Canadian experience. THE OJS program addresses both sides of that equation by exposing participating employers to the "hire-ability" of CARE Centre member nurses, and many of our employers take part year after year, and it also lets our member IENs get that all-important experience with a foot in the door of an Ontario healthcare provider."
Case Managers in the various CARE Centre locations recruit and match members with expert nurses from the health care organizations of their choice depending on availability. "It is indeed a very unforgettable experience and I learned so much about the hospital setting here in Canada," said member IEN Melissa Gaspar. "My expert nurse was very patient and always asking me what else do I need to do to achieve my learning goals. I learned infection control, communication with patients, documentation and much more. She even volunteered to be my reference and gave me the (web)site at Sunnybrook where I can apply for work. I'm very satisfied with my OJS experience."
Lourdes Vicente, Case Manager and Toronto OJS lead, advised that, "Members can undertake more than one placement, and we're striving to continuously add new healthcare provider-partners so our members can get first-hand exposure to the array of different nursing jobs that are available in the marketplace. Working in a hospital is significantly different from community nursing, or working in a long-term care facility. OJS lets our IENs refine their career focus and gives them that entrée into the working world of nursing."
Participating IENs must pay a $25 fee for workplace insurance, have a mask fit testing, vulnerable sector police clearance, current CPR- BCLS level C for HCP, and immunization records. They must also complete an OJS learning plan and have completed a Nursing in Ontario course or equivalent. OJS is strictly observational with no direct hands-on patient care. Over two to three shifts CARE members will shadow an expert nurse in their chosen facility, although it usually takes one to three months to arrange a placement so it is advisable to submit an application with complete requirements early. "My experience with all the IENs that have job- shadowed with me has been excellent," said Expert Nurse Paula Watkis from Sunnybrook Hospital. "It's a medium for me to refresh my memory and skills as well. The CARE Centre member that I was partnered with was excellent too, punctual, well-mannered and has an eager mind. She has a quest for knowledge that is never ending. The CARE centre OJS program is an excellent vehicle for integrating more diversity and expertise into healthcare."
Employment Strategies for Nurses
When IENs first join CARE Centre they receive a full menu of programs and services to help prepare them for registration exam success. Once the goal of registration is achieved, the next step on their career path is the job search, which can be done at career fairs, online, through face-to-face networking – the possibilities seem to multiply every day. The best way to take advantage of all the opportunities for career development is to conduct the job search with a systemized approach. Employment Strategies for Nurses is a new program developed by CARE Centre which is also now available for delivery by partner organizations.
"Research was done by CARE Centre to identify the unique employment requirements of internationally educated nurses in order to understand the scope of the challenges and barriers experienced by them," said Michelle Gordon, a CARE Centre case manager who helped develop the program. "We also looked at the attitudes of health care employers regarding their hiring. The top two employment challenges were language fluency or communication perception and differences in workplace culture. The workshop addresses those hurdles by covering topics including creating a personal profile, understanding terminology used in job postings, writing the resume and cover letter, developing interviewing skills, and understanding workplace culture."
The workshop has eight modules in total for delivery over 24 hours. To address differences in workplace culture, participants interact with real world employers who give feedback on how they present themselves at hiring opportunities. One-on-one mock interview are done with each of the participants and feedback is given at the end of each interview. There is also one module that specifically deals with both the general Canadian and the Canadian workplace culture, the role of inter-professional teams, and how to deal with conflicts on the job.
As a follow up to the Pilot Session in Hamilton, WIL Employment Connections, www.wil.ca , in partnership with the CARE Centre London, has delivered two sessions of Job Search Strategies. Each session was delivered in 8 modules over four days. Nancy Griffiths, an Employment Advisor at WIL and Facilitator for the sessions, states: "Transition is challenging and the nurses I have met are professionals in the final stages of their journey. They had successful careers prior to joining us in Canada and their most recent focus has been on preparation for exams and registration."
When nurses are working or preparing for exams they will not necessarily be thinking about their qualifications- how to present them in a resume or cover letter and how to discuss them in an interview to show a potential employer why they are the right person for a critical role in their organization. This is where Job Search Strategies is essential and beneficial.
Job Search Strategies for Internationally Educated Nurses is a solid opportunity – essential to developing skills and confidence to broaden the focus from studying to include career-specific employment assistance. Sessions are scheduled for just after CNO exams so participants' learning can expand to focus on career specific job search.