Ivana Freitas and Jignesh Joshi are two CARE Centre member RPNs who were featured on a poster presented at the Fall, 2013 RPNAO Conference. Ivana is now Resident Services Manager at a Chartwell Retirement Residence and Jignesh works in management and nursing at Central Clinics in Toronto. They share the On the Job spotlight and tips for newcomer IENs
What was nursing like in your home country?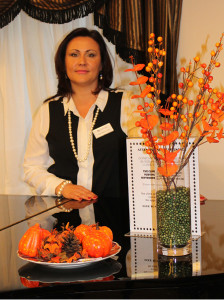 (IF) The reason I wanted to become a nurse was because I like to help people. I was brought up by my grandmother so I was a caregiver to her as well. I was 15 years old when I decided to become a nurse. I went to nursing school for four years in Belgrade. It's a different education system in Europe; after (middle) school, programs are more like college. I received a diploma as an RN, which was our highest nursing qualification at that time. I finished when I was 19. Now they have additional studies so they're getting closer to Canadian and American standards.
How did you decide to pursue nursing in Canada?
(JJ) I came to Canada in May, 2010. I wanted to come for the stability and safety, the financial opportunities. I love snow; at least I did in the beginning! Nursing is a passion for me, I always want to be on my toes. That's what it's like now when I'm managing a medical clinic of five family doctors and specialists and working there as a nurse as well. I passed my RPN exam in September, 2010. It was after that I found out about CARE Centre through a friend – I wish I knew before! Their experienced professionals have so much knowledge. The clinical workshops really help. For instance we do wound care completely differently in India. We're all nurses, but practice can be quite different.
What's the best part of your job?
After working for Revera and as a CARE Centre case manager I came to Chartwell. The supervisory position suits me. In this country nursing is also a business. I like regulations, policies and teaching people. We're really lacking RPNs in the long-term care sector; they have so many critical clinical skills we need. CARE Centre opened doors for me and now I can hire PSWs and RPNs – if they're not CARE Centre members I tell them to join!
Any words of advice for IENs on their journey to registration?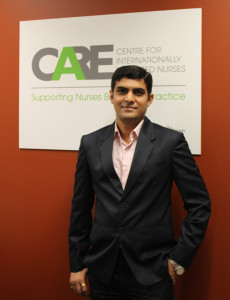 (JJ) Be prepared – it's not a short process, it's never easy, you have to prepare for months to at least a year. Also go to CARE Centre when you get your direction from the CNO. Professional associations like RPNAO guide you and help you. They can provide financial supports for IENs. You'll get more exposure to career opportunities, and they'll keep you current about the field — and of course increased understanding of professional standards. Take courses so you know more about Canadian nursing and understand the system, and volunteer. I volunteered at a clinic for two months and then they hired me!