CARE Centre for IENs Hamilton office is located on James Street, a section of the city that mixes stately historic churches and buildings with the GO station and busy intersecting roadways – a reflection of CARE Centre itself.
"We've been serving greater Hamilton, Halton and Niagara Regions and the Kitchener-Waterloo area for eight years now, and also connected with IENs from Peel Region to London before we had case managers and office space in those areas," says Manager Joanne Roth. "And just like the explosion in growth and immigration to those parts of southern Ontario, we've had a continued increase in IENs moving to our more immediate area. With our record of serving clients here, we're now at a stage where more established IENs can mentor the newcomers."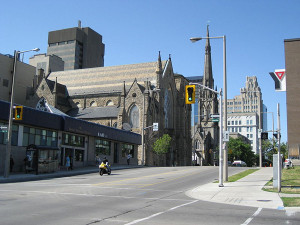 With a population of more than 500,000 residents, Hamilton is the third destination of choice for new immigrants to Ontario. According to Statistics Canada, more than 24% of the population is born outside of Canada. Hamilton boasts about 30,000 jobs in the healthcare sector, so opportunities for IENs seeking registration and employment are significant. "CARE Centre is a remarkable organization that contributes greatly to healthcare excellence in Ontario," commented Hamilton Mayor Bob Bratina. CARE Centre's case management model ensures the one-on-one support newcomer nurses need to excel in re-establishing their careers.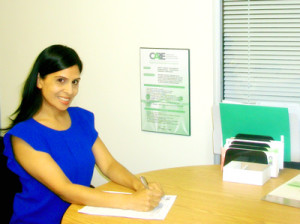 "After a holistic assessment, a diverse, inter-professional team of experts guide IENs through the settlement process with the goals of registration, progressive employment and successful integration into their workplaces and communities," says Case Manager Adilla Saloojee. "Case managers advocate on behalf of IENs for fair practices and opportunities. We also try to ensure that services are provided in an atmosphere sensitive to the uniqueness of our member IENs."
"Our partnerships with Mohawk College and Hamilton Health Science Centre (HHSC) have been bedrocks for continuing and expanding our activities," says Roth. "We're proud to say that HHSC has adopted our Language and Communication for Nurses program to enhance orientation for staff IENs as well as ESL nurses. Everyone from our advisory committee to local CARE Centre instructors to all of our supportive area employers have been integral to our success here."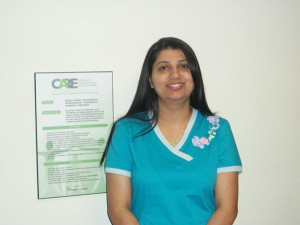 Navdeep Kabarhwal immigrated to Hamilton from India with her husband in 2008, and at first was bewildered by the prospect of returning to nursing in Ontario. "I was so nervous about things, I was really lost, it was such a big journey," she recalls. "When IENs come to a new place we really need professional guidance, and CARE Centre did all that for me." Kabarhwal is now employed as an RN at St. Peter's Hospital after gaining experience in community nursing with St. Elizabeth Healthcare. "CARE Centre provided me with information at every phase, including job search strategies. Now whenever a new IEN comes to Canada, I send them right to CARE Centre – they give us all the support we need!"