Why did you choose to become a nurse in Canada?
Around eight years ago, despite my interest in the computer sciences, nursing was the path I chose to take. During that time, my mother was already working as a NICU Registered Nurse here in Canada. I saw her passion and dedication to patient care that's why she was my inspiration to take up nursing. I was sponsored by my mother to come here and I have been living here since September 2010.
Who is your employer and what is their client focus?
The Oshawa Community Health Centre — it is a community-owned, non-profit, charitable organization whose services include family medicine, social work and counselling, and a variety of health promotion and community development groups, many focusing on children, youth and women. The Oshawa Community Health Centre utilizes a team of supportive and skilled professionals including child and youth workers, doctors, social workers, counsellors, nurse practitioners, RNs, RPNs and health promoters to deliver services. Our centre is unique for the reason that we are responsive to the health needs as defined by our Oshawa community.
What kind of nursing skills do you use with patients every shift?
I utilize technical and soft skills with patients every shift. Technical skills include general nursing skills such as, but not limited to, performing well child and adult assessments, immunizations, venipuncture, wound care, advanced nursing foot care, technology-related skills and documentation. Soft skills include patient advocacy, health education and health promotion and communication skills.
How did your nursing experience in your home country prepare you to do this job in Ontario?
The experience I bring from my home country is from my clinical placements as a student. My rotations in Community Health Nursing prepared me to work in Primary Care – such as performing health education, immunizations, and conducting home visits. The rest of my nursing knowledge in Ontario was from continuing education courses at George Brown College and training provided by my employer.
What is the most challenging part of your job?
Working in a variety of roles – Primary Care Nursing, Telemedicine Nursing, Hepatitis C Nursing, Foot Care Nursing and Community Outreach. Despite the multiple roles I play, I consider myself blessed. Even though I get caught up with multiple concerns, I love the variety of patient needs I encounter every day. I believe that in the long run, I will be able to do more and advance to higher skills as long as I keep on believing in myself. Even though I feel like I still have lots more to learn, I perceive this as an opportunity for me to grow. Like most IENs, there are challenges that we do not expect, therefore we should always be prepared and not afraid to ask for more information.
What should other IEN RPNs know about doing a job like yours?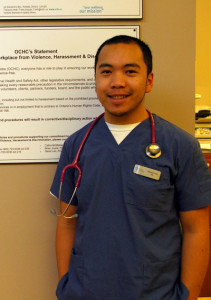 My job evolved through the training provided by my employer. I have one message for all IENs out there: Further your education! Continuing education is the key to success. Explore options for education in your workplace. If you are still seeking a nursing opportunity, look to your interests and pursue what available learning options are there are so when an opportunity arises, you can grab it immediately.
What's been your proudest nursing moment in this job?
Every day is a different scenario at work – assisting patients to become more independent, teaching students and developing their skills and making a small difference in people's lives every day. At the end of each work day, I am proud to say that no matter how tired I get and stressed with work and life, seeing their smiles and appreciation is enough for me to get going no matter what.
How would you like to advance your nursing career?
Even though I was not granted my RN eligibility by the CNO right away, as pliant as a bamboo tree, I will never give up on that dream, to continue moving forward to reach my goal, and serve as an inspiration to other IENs to do the same. In order to do that, I am currently enrolled at York University's IEN to BScN program. I am more determined to keep studying and prove that I can be a Registered Nurse here in Ontario. In addition, I see myself studying to become a Nurse Practitioner someday.