Recently, two CARE Centre member nurses contacted their case managers to share their experiences working in Northern Ontario for the Weeneebayko Area Health Authority (WAHA). Analiza Manuel wanted to let IENs know that nurses are always needed and will receive very good benefits and time off for travel. She also sent photographs of her work and extraordinary living environments.
Angeline Peruelo shared a video encouraging members to apply to WAHA "for a brighter future for your career and to do something worthwhile and different in your life." WAHA is responsible for providing comprehensive health services in the beautiful Weeneebayko region along the James Bay and Hudson Bay coastal regions in northern Ontario servicing six communities: Moose Factory, Fort Albany, Attawapiskat, Moosonee, Kashechewan and Peawanuck. This very scenic and diverse area is rich in Aboriginal culture and history. WAHA is the result of an October 1, 2010 amalgamation of the Weeneebayko Health Ahtuskaywin (federal hospital) and James Bay General Hospital (provincial hospital). WAHA offers emergency room and operating room services along with In-Patient and Out-Patient services.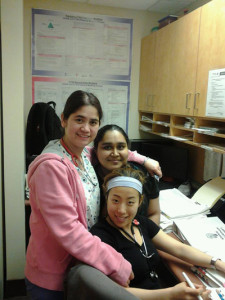 WAHA also offers a traditional healing program that combines contemporary health services with traditional healing practices. This program was designed in response to the community's needs and reflects the region's desire for the resurgence of traditional knowledge and practices.
The WAHA Nursing Services Department works closely with doctors to provide hands-on care for patientsWAHA has specialized nurses in the following areas: Operating Room, Dialysis, In-patient or Long-term Care, Obstetrics, Pre-natal and Post-natal care, Family Medicine, Telemedicine, Emergency, Infectious Control, Occupational Health and Safety, Staff Training and Management. A registered nurse is available to provide care to patients attending each WAHA site 24 hours/day, 7 days/week. Job postings can be viewed at www.weeneebaykohealth.ca/node/55