Another fruitful partnership with an academic institution has developed between CARE Centre and Confederation College. Confederation meets the educational needs of students in a catchment area of 550,000 square kilometers. Along with its main campus in Thunder Bay, the College has eight regional campuses located in the communities of Dryden, Fort Frances, Kenora, Geraldton, Marathon, Red Lake, Sioux Lookout and Wawa. Confederation also offers BScN and practical nursing programs, and has recently opened a relocation information service, Northern Canvas Project, available to all nurses interested in working in Northern Ontario. Confederation College met with members at CARE Centre's head office to offer advice to IENs (and spouses or partners) interested in employment opportunities in the communities they serve.
Representative Tim Kerbashian discussed individualized planning, including choice of communities, employers, postings, resumés, additional education, employment pathways, relocation costs, housing, and timeframes. The service has launched a Facebook page with numerous job listings for both RNs and RPNs: www.facebook.com/pages/Northern-Canvas/350335695093574. While the Northern Canvas Project does not have funds to help in job search or relocation, resources are available through the Ontario Ministry of Health and Long-term Care's Nursing Community Assessment Visit Program: http://www.health.gov.on.ca/en/pro/programs/northernhealth/ncav.aspx.
Funding Better Educational Outcomes for IENs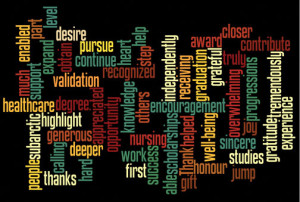 At the end of February the Canadian Nurses Foundation (CNF) did a webinar presentation to inform members about scholarships available to IENs. For over 50 years, the CNF has helped nurses learn, investigate and advance nursing best practices. The CNF seeks to improve the delivery of health care by awarding scholarships to promising nursing students and nurses at all educational levels, and by funding nurse-led research that enhances the quality and efficacy of patient care. The CNF offers over 50 different scholarships, and has two special categories available to IENs. The RBC Diversity in Nursing Fund has funds available up to $3,000 to subsidize the cost of bridging programs, including language training, as approved by the regulatory body of the province or territory. The Tecla Lin & Nelia Laroza Memorial offers $3,000 for IENs to complete bridging programs or Canadian baccalaureate degrees. Awards are limited to Canadian citizens or permanent residents who are studying in Canada at a Canadian university or college. Applicants must have at least three semesters remaining in their program after June 30. Certain awards have additional eligibility criteria and the value or availability may change without notice. IENs may apply to other categories but may only receive one award per annum. There are currently eight IEN RBC scholarship recipients, and you can read their stories on the CNF website at cnf-fiic.ca/who-we-are/our-stories/our-scholars. The CNF asks that all applicants read the Guide to the Online Application Process. This document provides a detailed outline of the process to complete the online application, and identifies all of the documentation required and how to complete reference forms. All scholarship applications require the following documentation: confirmation of registration in the next semester of your program; recent transcripts or web-based grades; three references (from academic supervisors where possible) and other documentation as specified in the eligibility criteria of a specific award. The CNF also recommends that you familiarize yourself with the merit review process to ensure that references provide the best appraisal possible. All applicants are required to pay a non-refundable $35.00 fee to help cover administration costs. Online applications must be submitted no later than midnight EST on March 31st, 2014. Applicants will be informed of results by the end of June. To find out more visit cnf-fiic.ca/what-we-do/scholarships-and-bursaries/apply-now – and good luck!